Patient Forms and Instructions
The following forms can be downloaded to your computer and printed at home. By filling out these forms ahead of time, you will save a significant amount of time during your first office visit.
We typically give the following instructions to our patients in the office on an as-needed basis, but we have also posted these files here for reference.
Surgical & Medical Treatment Instructions:
Cosmetic Treatment Instructions:
Administrative:
(Note: For a transfer of on-going care from this office to another dermatologist, please check first with your doctor if he or she feels that your old records are helpful, in your case.)
Note: These files are in PDF format. If you do not have Adobe® Reader® on your computer, you can download it for free by clicking here or on the Get Adobe Reader icon.

---
Patient Portal
The Patient Portal gives our patients secure 24/7 web access to their medical information from the comfort and privacy of their own home or office. Our staff will web enable patients at the appropriate time during office visits, and your username and password will be emailed to you.
This service is free to all established patients
Through the Patient Portal, patients are able to:
Receive Biopsy and Lab Results
Get appointment confirmation and reminders via email
Send and receive messages from doctors and staff (please allow 2-3 days for response)
View current and past appointments
Review medications and request prescription refills
Update contact information
Access medical record
View current and past statements, and make payments
Our office will make efforts to web-enable all patients. If any established patient would like to be web-enabled before their next visit, just call the office and our staff can do that for you. New patients will not be web-enabled until they arrive for their first visit.
The portal is not for diagnosis, treating new conditions, or urgent messages.
Your confidentiality is important to us. When you connect to the portal, you are connected to a secure website. Only the limited information you see is securely stored on the portal, but your actual records are maintained securely in our office. If you wish to deactivate the service, just let us know. All internet communication via the portal is recorded in your medical record. Staff members other than your physician will be involved in receiving your messages, and routing them to the doctor or staff as necessary. You may certainly use the website at any time, however, we will most likely not respond until our usual business hours. We will do our best to respond to any portal requests as quickly as possible, but because your doctor may not be working every day, please allow us 2-3 business days to respond.
If you have any questions or comments about the patient portal, please contact our office staff.
---
Tips For Getting Prescriptions & Prescription Refills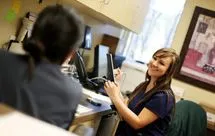 For all prescription refills, contact your pharmacy first. If there are no refills available, have your pharmacy contact our office. This is the most efficient way to get your prescription refilled. If you have not heard from us within 24 hours, please contact our office.
It is our office policy that patients must have been seen within the year in order to get a prescription refilled. This is to ensure that you get the optimal care you need. If it has been more than a year since your last visit, please schedule an appointment. If the refill is urgent, inform our staff and we will make all possible efforts to get you an appointment in a timely manner.
---
Patient Notice
For informational purposes only, a link to the federal Centers for Medicare and Medicaid Services (CMS) Open Payments web page is provided here. The federal Physician Payments Sunshine Act requires that detailed information about payment and other payments of value worth over ten dollars ($10) from manufacturers of drugs, medical devices, and biologics to physicians and teaching hospitals be made available to the public.
The Open Payments database is a federal tool used to search payments made by drug and device companies to physicians and teaching hospitals. It can be found at https://openpaymentsdata.cms.g...
---
Notice of Privacy Practice
Click on the link below to view our Notice of Privacy Practice:
---
Biopsy Results
Our office will notify you of your results either through our Patient Portal or by phone. If you have not heard from our office within 3 weeks of your biopsy, please call for your results. We do notify everyone of their results so if you have not heard from us, please do not assume that your results are normal.